Turbotville Train
Station
The Turbotville Borough Heritage Society welcomes you to our website dedicated to preserving the heritage of Turbotville Borough. We hope you find something of interest and consider joining our organization.

The "Society" meets the second Tuesday of each month at 7:00PM in the Turbotville Community Hall.
Mission Statement
The Turbotville Borough Heritage Society is dedicated to the preservation of any buildings or artifacts linked to the history and development of the Borough of Turbotville and to the memory of the people that were part of our town's growth and development.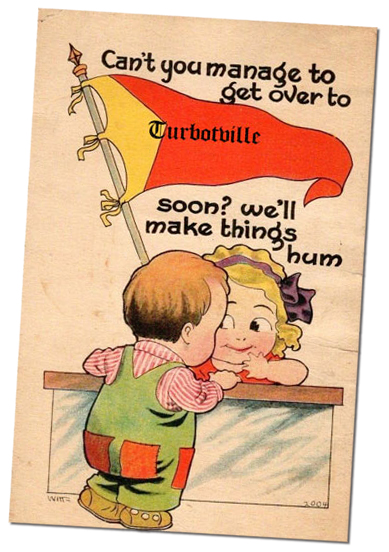 About Us
How We Got Started?
In early 2008, The Turbotville Borough Sesquicentennial Committee was formed in order to recognize the upcoming 150th anniversary of the incorporation of the Borough of Turbotville. Committee members Lester Miller, Leon Hagenbuch, Mark Reasner, Lisa Miller, Christina Mensch, Paul Wertz, June Kline, Peg Egli, Michael Sechler, Floyd Hulsizer, Rick Felix and Lon Tarr worked tirelessly throughout 2008 and early 2009 to prepare for the Sesquicentennial Celebration scheduled for July 2009. From monies gathered from fundraisers, printing the "Turbotville 1859-2009" book, and the Sesquicentennial Celebration, members of the committee decided it was only fitting to give something back to the community. It was agreed that the committee would create the Turbotville Borough Heritage Society, and make our first priority the preservation and relocation of the original Turbotville Train Station from its previous location in Bloomsburg, PA.
contact us
Humourous postcard published in the early 1900's
Address
311 Main Street
Turbotville, PA 17772
Copyright © 2021 Turbotville Borough Heritage Society
All Rights Reserved.